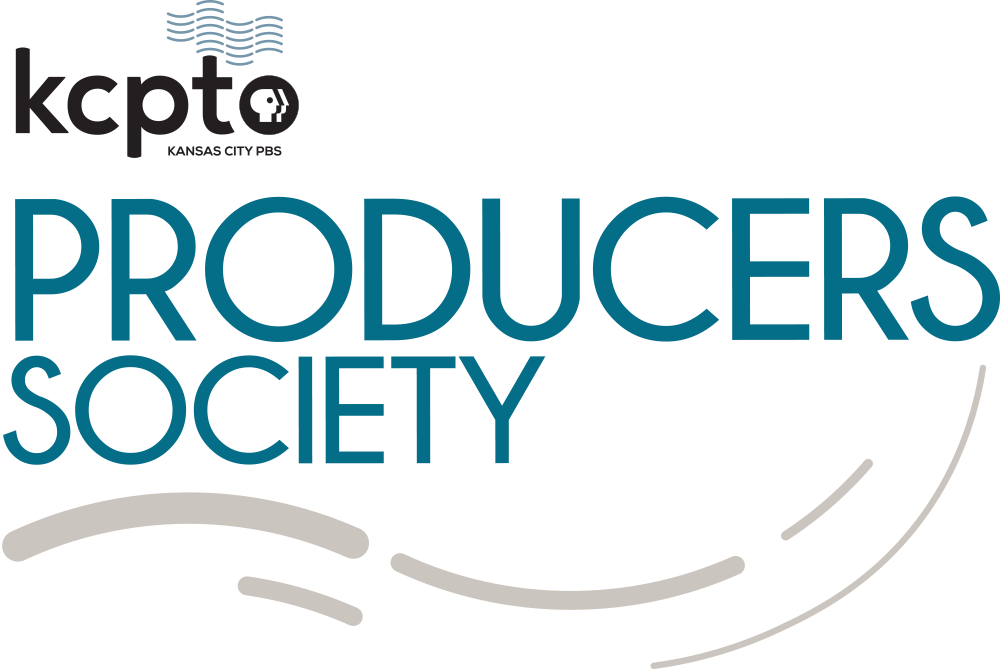 Members of the
Producers Society
are a vital part of our mission — to share programs and services that help our communities connect, converse and become lifelong learners. Investment at the Producers Society level provides our community with the best PBS and local programming available. Producers Society members receive exclusive invitations to events, ticket opportunities and behind-the-scenes access to KCPT and PBS programs.
Thank you to the following members for their generous support.
$25,000+
Anonymous
Dave & Jamie Cummings
Jo Anna Dale
Dr. Mary Davidson
Robert & Marlese Gourley
Fred & Lou Hartwig Family Fund
Dennis Marker & Susan Lordi Marker
J.B. Reynolds Foundation


$10,000+

Allen & Janet Agron
Anonymous
Bud & Jennifer Bacon
Alec & Donna Belingloph Charitable Trust
Dan Blackwell
Jim & Joan Cattey
Larry Davis & P.J. Quell
Susie Evans
Ken & Virginia Filardo
Peter & Barbara Gattermeir
Graham Family Fund
Michael & Marlys Haverty
David Holmes
Enid & Crosby Kemper Foundation
Janet Long
Bill & Ann McCort
Joe & Judy Moody
Dr. Allen & Debra Parmet
John Palone & Leslie Pfriem
Thomas & Sally Wood Family Foundation
June Beaver
Carl & Mary Buchman
Mary Brungardt
Stephen & Karen Clegg
Bill & Gaby Deramus
Sandra Eveloff
Brad & Linda Finkle
David & Janis Francis
Carolyn Gentile
Harold & Mary Ellen Hall Family Foundation
Rocky & Susan Horowitz
Hunter Legacy Family Foundation
Robert Lundy
Edward & Ann Matheny
Ford & Christine Maurer
Tom & Jean McDonnell
Larry & Priscilla McKeaigg
Dr. Kendall McNabney
Richard Mistler
Daniel & Wanda O'Dell
Craig & Anne Patterson
Nancy Peterson
Terry & Susie Reardon
Ann Redmond
Melvin & Martha Rice
Alice Scott
Rolf Snyder
Stueck Family Foundation
Charles & Angie Sunderland
Russ & Debbie Welsh
Anonymous
John & Renee Arnett
George K Baum Family Foundation
Terry Besser
Jay & Mary Bodney
William Bradley
Ellen Brand & Darwin Rold
Arnold & Donna Brown
Pete Browne & Julie Walker-Browne
Herb & Bonnie Buchbinder
Stanley J Bushman & Ann Canfield
Gary & Kathryn Bussing
Jack Coakley & Jane Ratcliffe
Curtis & Lillian Cooper
Bill & Jill Coughlin
Dick & Sue Ann Fagerberg
Kathleen Farren
David & Cynthia Frensley
Gregory Gibson & Tania Van Dyk
Don & Esther Giffin
John & Gale Haslam
Mary Helen Korbelik
Bill & Regina Kort
Graham Kreicker
Margaret LaMothe
Linda Marcusen
Barbara Nelson
Steve & Marianne Noll
Thomas & Janice Pearson, Jr.
Ted & Kate Place
Janet Revare
Mary Miller Ross
Kenneth & Roswitha Schaffer
Susanne Shutz
Jim Stowers III & Michele Stowers
Mark & Amy Thompson
Rao & Nalini Tella
Nancy Viets
Richard Wallace
Kenneth & Ramona Wood
Margaret Wurst
Karenbeth Zacharias
Anonymous
John & Ellen Aisenbrey
Patricia Andrews
Ray & Kimberly Ansari
Don & Rebecca Aripoli
Alan & Mary Atterbury
Linda Bailey
John Balling
John & Lori Banhart
Ronald Barnhart
Donald & Irmajean Barta
Carol & Patrick Bartko
Charles & Joan Battey
Jack & Carolyn Baumgartner
James & Susan Beanland
James Beatty
Joan & Bert Berkley Blue Heron Foundation
Jeff Besser
Nancy Bethke
Wendy A Bie
Peggy Bloom
Harvey Bodker
Don Booz
Phil Boring
Robert & Diane Botkin
Mark Box
David & Cathi Brain
Fred & Margie Braun
James & Catherine Brazeal
Willard J. & Mary G. Breidenthal Foundation
Vicki Bronson
Patricia Brooks
Doug & Mary Brothers
Jack & Sharon Brunjes
James Budnick
Wanda Buehre
Calvin Burger
Melisa Burns
Derek Butler & Stacy Rhodes Butler
John Byram, Jr.
Michael & Kirsten Byrd
Gene & Joanne Cable
Mike Carpenter
Fred & Martha Chael
Kevin & Rachel Chevalier
John & Janette Coil
Scott Cole
Bernice Cole Kramer
Dan & Karen Conyers
James Cooney
Paul & Bunni Copaken
Mildred Copeland
Catherine Corral
Rick Cottrell
Thomas Coulter
Glenn Courtney
Kenneth & Dee Davis
Jesse & Jennifer Day
Don & Vida Death
Sarah Derks
Tommye Dodd
Kathy Dowell
Thomas & Lauren Dowling
Betty Drees
Karen Dummermuth
David & Phyllis Dunn
Terry & Peggy Dunn
William Dunn
Mark & Linda Eagleton
Ron Einbender
Raymond & Nancy Elder
Kenneth & Bonnie Ellington
Erik & Beverly Elving
Jerome & Rayla Erding
Martha Field
Sally Firestone
Kathleen Fliehler
Hartley Family Foundation
Louise Frank-Graham
SuEllen Fried
Charles & Sharon Gaynor
Barbara Bangiola Messner Family Fund
Blair Gogel
Donna Gould Cohen
Stephen & Patricia Gound
John & Carolin Green
Moulton & Jean Green
Bill & Lola Griffey
Megan Haave
Tom Hall
Allan & Carol Hallquist
John Flaherty & Marnie Hammer
Ronald & Theresa Hammond
Don & Linda Harkins
Raymond & Kristen Hawley
Susie & Spence Heddens
Tim & Patty Heil
George Helmkamp
Nancy Helmstadter
Barnett & Shirley Helzberg
Thomas & Katrina Henke
Dan & Diane Hesse
Douglas & Peggy Himebaugh
Stan & Sara Hodges
Margaret Hogan
Dianne Hogerty
Thomas & Kathryn Holder
Ann Holmes Parker
Joan Horan
Natalie Howell
Doranne & Randall Hudson
Dennis & Carol Hudson
Scott & Molly Hughes
Duane Huizenga
Frank Hummer
Todd Huntley
Roger & Sandra Jackson
Robert & Sheryl Jacobs
Gary Johnson
Patricia & Arlen Johnson
Kay Johnson & Bill Koenigsdorf
Glenn & Sheila Jones
Virginia Jones
Peter Jarosewycz
Nancy Kain
Jerry & Joy Kaplan
Matt & Lori Keenan
Buzz & Sue Kelsey
Jonathan & Nancy Lee Kemper
Jean Kiene
Howard Kietzman
Janice King
Billie Kingsolver
Mike & Julie Kirk
Richard & Lynn Klein
John & Carol Kornitzer
Gerald & Kathryn Kraai
Bernice Cole Kramer
Kliff & Sherry Kuehl
John Lake
Fred Lambert
Cheryl Lambrecht
Linda Lenza
Sharon Lewis
James & Shelley Lichty
Herbert & Carol Lindsley
Loretta Loftus
Ida Mae Long
Alice & Donald Long
A .J. LoScalzo
Sandra Loughlin
Dale & Theresa Love
Mervin & Anita Joyce Lund
Verda Lutte
Lucy Masterman
Cynthia Lyon & George Miser
Peggy & Bill Lyons
Roger & Kayla Maalouf
Thomas & Adriana Mathews
Jason & Becky Meschke
John & Ellen Miller
Pamela Miller & Michael Cummings
Stella Miller
Fred & Linda Mitchell
James & Virginia Moffett
Linda Moore
Ramon & Sally Murguia
Edward Musgrave
Kala Musick
Linda Neal
Fred & Paula Neuer
John & Mary Newman
Pamela Nicklaus
Robert & Linda Northrip
William Oakes
Michael & Marci O'Grady
Carolyn O'Malley
Karen Orrill
Joann Ozley
Timothy & Beth Parker
Patricia & Chris Partezana
Frank & Mary Beth Patry
Geoffrey & Joyce Patterson
Rita Pavicic
Thomas Payne
Richard Pearson
Patrick & Mary Peebles
Keith & Margi Pence
Janice & Mike Perkins
Michael & Charlotte Perry
Micah & Ali Pescetto
Carolyn Phelps
Carolyn Pitts
Linda Place
Katherine Plunkett & Jack Davis
Audrey Pollard
Kirk & Rita Putman
Joseph & Kathleen Quinn
Michael & Usha Rafferty
Eloise Rathbone-McCuan
Priscilla Reckling
Clarence Refer
Norma & John Reni
Walter & Gayle Richardson
Palle & Dennis Rilinger
Terry Rinehart
George & Linda Robbins
Roy & Sylvia Robinson
Leonard & Julie Rodman
Patricia Rogers
Deanna Ronchetti
Michael Rosenblum
Gina Ross
Lucy Rupf & Alan Feldmeier
Robert & Marilyn Rymer
Felix & Carmen Sabates
Kim Sayles
Nancy Schmalbeck
Peggy Schmitt
Robert Schwegler
Gil & Mylinda Scott
J. Stan & Tommye Sexton
Paul Sexton & Marie Lerner-Sexton
Zack Shafran
Scott & Beverly Shane
Janardana & Vidya Sharma
Stuart & Julie Shaw
John & Marny Sherman
Dianne Shumaker
Frank Slovick
Donovan Smith
Willard & T.J. Snyder
Meyer & Mindy Sosland
Morton & Estelle Sosland
Susan Stanton
Robert & Lynne Stark
Kathleen Starr & Paul Tymosko
Lisa Stickler
Philip & Mary Stowe
Virginia Stowers
Bradley & Cynthia Strecker
Sven & Julia Sykes
Mark & Deborah Tady
Bonnie Taylor
Marilyn Taylor
Michael & Linda Tepesch
Curt Thomas & Pete Sunderman
Mary Thomas
R. Wayne & Joyce Thompson
Don Thomson
James & Rebecca Tilden
Dorothy Tillman
Dan & Katherine Tilson
Robert Tobin
Michael & Elinor Tourtellot
Dale & Vickie Trott
Mark Van Blaricum & Jackie DeSouza-Van Blaricum
Mary & Russ Vandekauter
Edward Vaughn
Peter & Elizabeth Viscusi
Betty Joan Wagstaff
Katherine Waldman
Tim & Wanita Walker
Bill & Julie Wallen
Jill West
Gus & Susie Wetzel
Ethan & Heidi Whitehill
Janet Williams
Jack Williams & Jane York
Stephen & Marta Williamson
Gary McGhee & Willetta Willis-McGhee
Russell & Claire Wilson
Judith Wonn
Karen Wood
Rodger & Patricia Wright
Marilyn Youll
Breidenthal-Snyder Foundation
Burns & McDonnell Foundation
Francis Family Foundation
Hall Charitable Foundation
Hall Family Foundation
Hallmark Corporate Foundation
Hartley Family Foundation
Ewing Marion Kauffman Foundation
The McDonnell Foundation
Miller Nichols Charitable Foundation
Muriel McBrien Kauffman Foundation
The Sunderland Foundation
For more information, please contact
Liz Wilkin
, Producers Society Manager, at 816-398-4262 or
join online
.